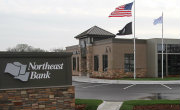 New Brighton Office
New Brighton Office
Northeast Bank is a locally-owned community bank committed to providing quality products and exceptional service since 1947. Founded by a handful of local business people to address the need for a local bank, Northeast Bank has continued the tradition of working with others and addressing our communities' needs. We have truly dedicated ourselves to helping businesses and individuals grow.
In 2015, Northeast Bank announced that our Columbia Heights location would move to New Brighton. We recently celebrated our one year anniversary at our New Brighton Location!
The move expanded the bank's reach into new markets, while allowing it to continue involvement with the Columbia Heights community. We are proud to serve the New Brighton community!
We offer a range of great products and services for both individuals and businesses. Northeast Bank is proud to offer the following products to businesses:
Northeast Bank also offers great products and services to consumers:
Give us a call at (651) 529-1460, or stop by our office located at:
1135 Silver Lake Road NW
New Brighton, MN 55112
Hours: Monday-Thursday 9AM-4PM, Friday, 9AM-5PM, and Saturday 9am-Noon.