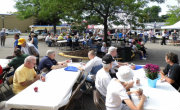 News & Events
Bank Sponsored Events
2016 Highlights
Northeast Bank's President/CEO Tom Beck has been named the 2016 Banker of the Year by Northwestern Financial Review.Tom started with Northeast Bank in 1978 as a management trainee. He holds a Bachelor's degree in Business Administration from St. John's University, a Master's degree in Business, and graduated from Stonier Graduate School of Banking with honors. Tom's latest promotion was to President/CEO in 2011. Tom Bengston, Editor/Publisher at Northwestern Financial Review states, "Ultimately we selected Tom because of his long-time record of consistent leadership, his clear respect for the Common Good, and for leading his bank through the difficulties of the financial crisis and subsequent recession." To view the full article click here.
2015 Highlights
The Fall Free Spirit Club bingo party was hosted by Northeast Bank on October 14 in the Walter C. Rasmussen Community Room.

Northeast Bank sponsored the 5th Annual East Side Neighborhood Services Brew Fest on Saturday, October 10. Volunteers representing Northeast Bank helped issue wristbands, pour brews and clean-up.

Northeast Bank participated in the Minnesota Brain Alliance Annual Walk for Thought event in St. Paul on September 19. The Northeast Bank team "Penny for Your Thoughts" consisted of 19 walkers.

On Friday, September 11, our FREE Community Picnic was held at our Minneapolis location. We served brats, hot dogs, potato chips, pop, apples and Dilly Bars to approximately 500 people.

Northeast Bank is a proud supporter of Urban Homeworks financially and also as a volunteer resource. On May 21, four Northeast Bank employees spent a day rehabilitating a home in North Minneapolis.

Nine Northeast Bank employees participated in the Northeast Minneapolis Chamber of Commerce's Weed It and Reap Clean Up Days in early May.

On May 14, six Northeast Bank employees volunteered their time at Eastside Neighborhood Services' 19th Annual Wine Tasting event held at the Nicollet Island Pavilion.

Northeast Bank was selected as one of Minnesota's "100 Best Companies to Work For" by Minnesota Business Magazine. We are honored to have been selected for this list for a second time in three years.

On Thursday, April 16, Northeast Bank celebrated Community Banking Day by hosting a shredding and computer recycling event. An estimated 4,000 pounds of paper was collected and shredded during our two hour event. We had about 90-100 individuals take advantage of our free shredding service.

The Free Spirit Club Bingo Party was held on Wednesday, April 8 in the Walter C. Rasmussen Community Room. Approximately 60 Free Spirit Club members and their guests attended the day bingo session and 80 attended the evening session.

On Thursday, February 12th, nine employees volunteered at the East Side Neighborhood Services Senior Valentine Luncheon. For 39 years, seniors from the community have been invited to enjoy live entertainment, lunch and a chance to win prizes.

The Free Spirit Club 20th Anniversary Travel Spectacular was held on Tuesday, February 17. Over 140 Free Spirit Club members and their guests enjoyed a pasta meal while learning about the great 2015 tours being offered by Jefferson Tours and Premier World Tours. Contact Lynda at 612-362-3215 if you are interested in receiving more information on FSC tours.

Minnesota Banker's Association (MBA) honors Northeast Bank with Community Champion Recognition. The MBA recognizes member financial institutions for their contributions, service and support for their local communities. Northeast Bank will be recognized at Bank Day a the Capitol on February 3, 2015.