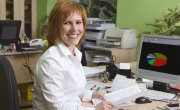 eStatements
Summary

eStatements take up less real estate than paper, and may be accessed more quickly for more accurate account management.

Plus, eliminating your paper trail means eliminating chances for fraud. Stay ahead of identity theives and bring your business' bank statements online.

Details:

Reduce office clutter and stay better organized
Help save planet's resources
Eliminating a paper trail reduces chances of identity theft and fraud
Easy to read and navigate
Receive notice when new statement is ready
Quicker access than paper statements
Access past statements online up to 18 months
Ability to download and save for future reference
Secure access via NetTeller online banking
To sign up for eStatements, click on the eStatements tab in NetTeller online banking and follow the enrollment prompts
View the eStatement Enrollment Guide for step by step instructions

Note: must enroll in NetTeller online banking to receive eStatements.